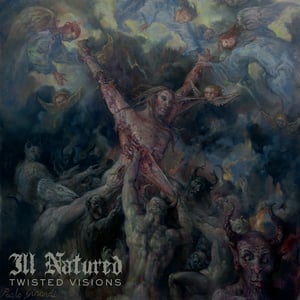 $

25.00
Ill Natured - Twisted Visions LP.
LRR10
Listen to the title track and pre-order digitally now at https://lastriderecords.bandcamp.com
Ill Natured's debut full length "Twisted Visions" is a wicked inferno of demonic proportions. Following 2015's "Depths of Despair" 7", Ill Natured return once more with 10 songs of cavernous barbarity. "Twisted Visions" was recorded and mixed by Elliott Gallart of Chameleon Sound, mastered by Arthur Rizk of Solomon's Gate, and album artwork was provided by Paolo Girardi.
Release date for the record is January 19, 2018. The records and other pre-order items will be shipping in early January to arrive on or around that date. Any other items that are pre-ordered at the same time will not be shipped until these orders are ready.
Pressing information:
Beer (100)
Black (200)
Purple with blue swirl (100) (Grim Reality Records exclusive)
European version available at https://grimrealityrecords.bigcartel.com
Track listing:
1. Crawl
2. Seal Your Fate
3. The Hammer
4. Faced With Death
5. Unholy Desire
6. Twisted Visions
7. The Web
8. Buried
9. Beneath The Smoke
10. Skeletons
International shipping rates from Australia continue to increase and become more expensive, and the prices provided may not be entirely accurate. If you believe the price is incorrect, please email tom@lastriderecords.com and we can determine the exact postage based on your location.
Availability
Beer - 95% in stock

Black - 99% in stock

Both Colours - 100% in stock